CBCL and Robinson Consultants Receive ACEC Canadian Consulting Engineering Award of Excellence for Northwest Arm Trunk Sewer Rehabilitation project
For this project, Halifax Water required the renewal of an inaccessible, 100-year-old, large diameter, 4,000-m long trunk sewer that was exfiltrating into the Northwest Arm inlet, a major recreational and natural asset, during rain events.  The Robinson Consultants/CBCL Team was tasked with restoring both the sewer's structural integrity and its intended flow capacity, extending its service life up to 75 years, removing debris, creating a corrosion barrier and eliminating contamination of the coastline. The project was executed in a cost-effective manner while significantly reducing social and environmental impacts.
The Canadian Consulting Engineering Awards are considered the highest recognition for excellence in the consulting engineering industry and award winners are selected by a panel of independent jurors with varied backgrounds and knowledge of the industry.  This project also won the Ontario Association of Engineers award, an ACWWA (Atlantic Canada Water and Wastewater Association) award, and a NASTT (North American Society For Trenchless Technology) award.
"This chall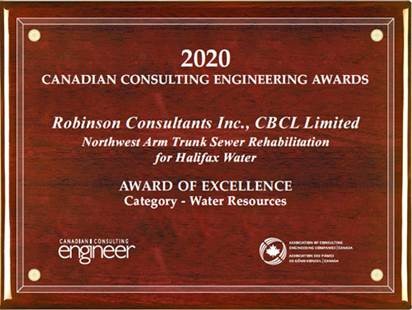 enging project, which broke several Canadian records, was completed on a very tight schedule, caused minimal disruption to the neighbourhood and saved considerable money compared to alternate methods."
–Jury